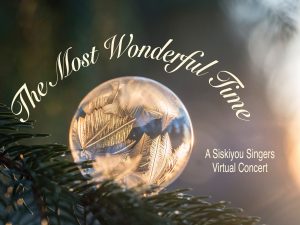 Siskiyou Singers, now in its 39th year of creating engaging and accessible choral music for the Rogue Valley, will present "The Most Wonderful Time," a free online concert celebrating the hope and spirit of the 2021 holiday season.
The concert will premiere on Friday, Dec. 10, on the choir's website, siskiyousingers.org, and can be viewed at any time after that date.
In past years, Siskiyou Singers presented two concert programs per year at Southern Oregon University's Music Recital Hall. The pandemic has forced the choir to suspend in-person rehearsals and performances, but the group has continued to create virtual video concerts each season during the past two years.
For this year's holiday concert, Director Mark Reppert has collected pieces reflecting a wide range of styles, from traditional to contemporary, from spirituals to jazz. Among the selections:
• "When Mary Walked Through Woods of Thorn," a delicate German carol arranged by James Helme Sutcliffe.
• "Lullay My Liking," a lullaby based on a 15th century Middle English lyric poem and composed by Gustav Holst.
• "Here's a Pretty Little Baby," an energetic Christmas spiritual arranged by André Thomas.
• "It's the Most Wonderful Time of the Year," a lush jazz waltz arrangement of the holiday standard by Mark Hayes.
• "Winter Wonderland," another jazz interpretation of a classic song, arranged by Michele Weir.
As it has for many years in both its live and virtual holiday concerts, the choir will also present a version of "Silent Night," this one by Mark Hayes, and will close with John Rutter's arrangement of "We Wish You a Merry Christmas."
As they did in creating previous virtual performances, choir members have participated in weekly remote rehearsals using a variety of online and streaming tools. They then recorded their individual parts of each composition at home, with Reppert assembling them to produce the online concert.