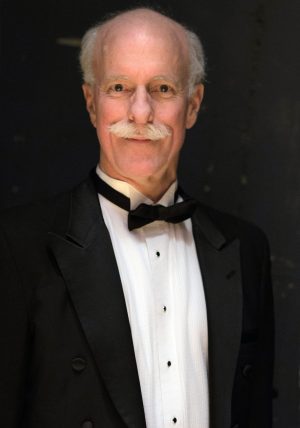 Mark Reppert studied conducting, composition, piano, and music history at the University of Southern California, graduating with a degree in Music History. He was a member of the University Symphony, the Opera Chorus, and the Trojan Marching Band. He also met his wife, Marilyn, while attending USC. They were married in 1971.
Mr. Reppert received a master's degree in piano performance from Cal State University, Chico, graduating with distinction. While attending Cal State, he soloed with the Shasta Symphony as the winner of the Shasta Symphony Solo Competition. He also soloed with the Paradise Symphony and performed numerous solo recitals.
Mr. Reppert began his teaching career at Paradise Intermediate School in Paradise, California in 1975, the year his son, Joshua, was born. His daughter, Lupine, was born three years later. For 23 years in California, he taught a variety of music to all levels of students from kindergarten to college, including band, orchestra, elementary music, college music appreciation, community choir, and both high school and middle school choir. Mr. Reppert recently retired after 10 years as choral director at North Medford High School, where his award winning choirs were an important part of the musical community, performing in many venues including at the annual Renaissance Dinner. In addition to his responsibilities as choral director at North Medford High, he was also the music director for numerous musical theater productions including "Into the Woods," "The King and I," and "Fiddler on the Roof."
Mr. Reppert is now an active musician in the Rogue Valley. In addition to his duties as director of the Siskiyou Singers he is a resident music director at Camelot Theatre in Talent.  His recent productions include "Les Miserables," "Evita," and "Sound of Music." He has also been a part of performances for the National Association of Composers, USA, Southern Oregon and in other capacities throughout the Valley.